Women's Motorcycle Sunglasses: About us and Biker Chix®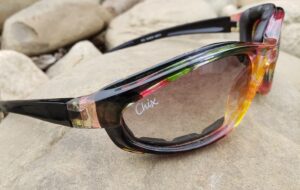 Our story began in Jackson, California over three decades ago. Our company, Pacific Coast Sunglasses, Inc.  was in its infancy and just beginning to come into its own. As we focused on the growing demand for good quality, affordable motorcycle sunglasses and goggles, we realized women were a growing part of the biker community. More women were riding motorcycles and looking for series eye protection that met their needs. That is where the Biker Chix® name was born and really began to flourish.  At first, it was hard to determine what women wanted in women's motorcycle sunglasses; then, it became clear.
As a group, women are as diverse as any other population. We quickly discovered that our Biker Chix® brand needed to be as varied as the women who wear them. That is why, to this day, you will find padded frames, gray fade lenses, clear lenses wrap styles, foam padded sunglasses with detachable straps, amber polarized, frames with bling and more. There is something for everyone, including those who simply want a black wrap sunglasses with dark lenses. As the years went on and we became bigger (and smarter!) our inventory selection also grew and our customer base exploded. We must admit, there have been some surprises along the way and some changes, too. People used to tell us, "women don't want (fill in the blank) in motorcycle sunglasses".  Some statements were even more specific like, "Women won't wear wrap styles because the lenses hit their lashes". What did we learn? Not all women who ride are the same. We must provide options. Listening to you, our women customers who ride motorcycles, we developed the options that you see today. We continue to grow and bring new women's motorcycle sunglasses and goggles every year. See all our women's sunglasses here:  https://www.pacificcoastsunglasses.com/chix-women-s-sunglasses.aspx
Sincere thanks to you for checking out our Chix®!